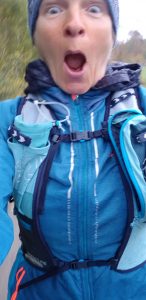 So, I've had it for some time now  the Ultimate Direction Women's Adventure Vesta 4.0 and have a more balanced view of it now and below is a short review.
Despite my fractured toe I have been using the vest quite a lot although not during very much running but I've tested it both at home, during autumn, and in warmer very summery climate. The unisex UD vest I've had before (Scott Jurek Ultra 3.0) still feels better on the back despite what I claimed in my pre-review :D.
So here's a short review (not including the not so good bladder in detail):
Comfort
The boobs – where the heck am I supposed to have my boobs?? On the first try I had a sports bra, a sweater, fleece vest and a jacket making my front pretty flat and as long as I have a lot of clothes it is ok and if I don't close the chest strap it's ok but then it does not stay put.
If you fill the front pockets your arms brush against the pockets every step. Not comfy at all. Again they forgot that women have tits.
As suspected I had to tighten the fancy cinche system and in doing so the plastic endings folded inwards poking right into my ribs in the back (see pic). Not comfortable at all and really remarkable that no one have thought about or discovered this during the development – I thought they had a lot of people thinking, testing and developing these things but now I suspect it has gone a bit to fast from idea to realization.
One day it was super hot and I tried running with only my sports bra which isn't a problem at all with my old UD but the fabric is too harsh and stiff and (again!) the cinch thingies are even worse because you can feel and the above-mentioned  and the other hard plastic  against the skin  (see pic).
Front straps are easy to adjust stepless vertically.
The rod along which the front strap mechanisms does not form itself to your body contour but flexes back instead. Makes it highly durable but uncomfortable on my boobs.
Storage
3 zipper pockets and one open around waist – the front zipper and open pocket are easy to reach but the two others are bit more tricky, so difficult I've ended up not using them during running at all.

1 big taco zipper in front – it fits my huge Galaxy Note 8 but if you do not pack it fully stuff bounces around in it. Also, if you pack like a Note 8 it will be in the way of your arm every time you swing your arm – not much, but it will touch.
2 zipper pockets on back – I still haven't figured out how to pack optimally but they are ok. One has a key clasp in it which is very good. If you use the tightening straps these will be in the way for the zippers which is a bit fiddly.



1 string lock front pocket – the closing mechanism on this one has broken. It took only 6 runs. Before that it was really good and one of the features of my old SJ I really love.
1 separate section (with zipper) for hydration bladder  – the section is not tight enough so the bladder folds when empty eve if I hang it as supposed. Also this compartment is difficult to open when you use the tightening strings.
1 main storage compartment with a zipper that allows you to enter the compartment both from the top and from the side. This is where I keep my extra clothes in an Exped Fold Drybag size S.

.
Outside the back zipper pockets and the main compartment is a pocket that I have used for either quick stow away of a rain jacket or my electronics which I store in an Exped Fold Drybag size XS.

.
You can tighten the whole back sack with rubber strings on hooks when you do not pack fully. This looks weird and assymetrical but you can tighten and loosen as much as you want depending on how much you pack. A no bump guarantee.

Tightened to the max the vesta is almost flat. A no bumping guarantee!

Since I do not use poles I have not tested that functionality
Hydration system
Prepared for bladder & hose with canals and separat bladder compartment
The 1.5 liter bladder from Ultimate Direction sucks!!!!!! It does not resemble the 2.0 liter my husband got so this is either specific for the 1.5 or just a stupid "upgrade". It's hard to close since it's all soft plastic and not hard as before. I can just imagine myself after 20 miles – no thank you.
Also the vaults both near the bladder and the mouth have been malfunctioning several times. Once when I pulled to open the vault before putting it to my mouth the whole thing came loose and I sprayed water all over me and the floor of the bus.
I sold the "body bottle" for the right front pocket so no review of that.
Summary
PRO:s
+ Fits a huge amount of stuff
+ Ability to enter mail compartment from top and side
+ Great string closing on front pocket (although it broke)
+ Can be tightened if you do not pack a lot
+ Adjustable fitting (is this really a pro? See con:s)
+ OK on the back but not great
CON:s
– Not as comfortable when running in tank or T-shirt on as the SJ Ultra vest
– Cinche mechanisms cuts into back
– No room for boobies – my new trail name will be Uni-Boob?
– Taco pocket – stuff bumping around if not full
– Only two colors whereof one looks horrible. I chose the blueish.
– Bladder, hose and their mechanisms are just bad
– Not able to open zipper to bladder without unhinging the tightening when using it in smallest mode