Day 3 – Lövestads åsar – Andrarum 
– Temp: 27-29°C
– Distance: 15.5 km
– Time: 3h 18min
– SL4 Stage: 9 & 8 
– Difficulty: Easy
– Markings: Poor 
The heat continues but I so love it! Today is Saturday a short stage of only 15.5 km. The sleep was better but the tent a bit stuffy. After the same breakfast as yesterday the stage started as it ended, continuing upon the ridge of "Lövestads åsar" through the intensely green beeches and on ground thick with wilting leaves in all different yellow shades.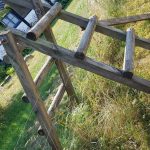 After 2 km I get to a turn out on a small road of asphalt and the landscape shifts from forest to a more open, with heaths and after another 2 km I'm  on a gravel road that gets smaller and turns into a path, I climb another of the many ladders over a fence  and onward on a path leading to Hallsbergs Stenar at 4.4 km. Somewhere here I stumble across a crowd of very curious, agitated and restless cows with a bull that stares so intensely at me I choose to climb barbed wire to walk another pasture finding that many probably have done the same because there is a path here and a part of the fence made easier to pass for humans.  I guess it might all be in my mind but I'm not inclined to try that theory today.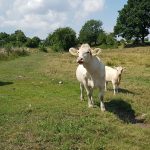 Crossing a road and a farm I continue on small paths of different pastures and some more cows, this time they behave more like the cows I'm used to and, although curious they move away when I talk to them. They were really beautiful white cows, calm, not like the other ones, all fidgety.
5 km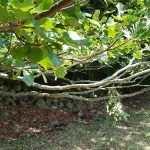 After this I come to a point where the markings start to get a bit scarce or maybe even missing and I take make two wrong turns, one just before my 6 km mark and one at 6.5 km, and at several places I just have to look at my map all the time to get it right. Some of the markings were on trees that had grown so big their branches hang near the ground, hence the marking on the stem was not visible at all, some markings were just too far away to be visible.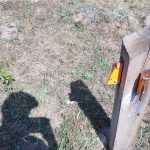 In Heinge fritidsområde, at 8 km, I get to a broken sign. Even though the sign is all messed up it's clear which way to go. Or so I thought, because when I get up to the road and the next sign this points into a field and backwards towards where I came from again. Not a long detour at all but it took a while to figure it out because I'm a bit tired.
Yes, as mentioned, at this point I'm worn, my muscles are aching and I'm a bit tired so I walk almost all the time enjoying the landscape and decide that tomorrow, which is a short short stage, I will walk only and consider it a rest day.
10 km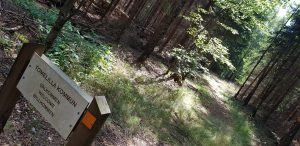 Some small green paths, entering the city of Tomelilla, and passing another road and at 11 km. I stopped to lie down on a bench for a long while, and my dear husband shows up. We continue on a small gravel road for a while but since I'm struggling with some pain I continue alone, walking. I ponder the thought of the GAX participants that started their journey today, approximately at the same time I started – at this point they have run about 57 km and have more than 100 km left. I look at the GPS tracking of the participants and some of our friends and get inspired to hang in there!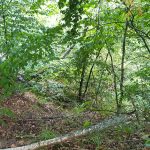 The small gravel road continues for approximately 4 km. Since I'm walking some bugs annoy me, but it's still so beautiful, they're forgiven. I pass a bigger road and over another one of those ladders and the open landscape turns into thickly, shady woods with a bit more technical terrain. A final slope and I'm there, at the parking of "Alunbruket" in Andrarum where we will be staying!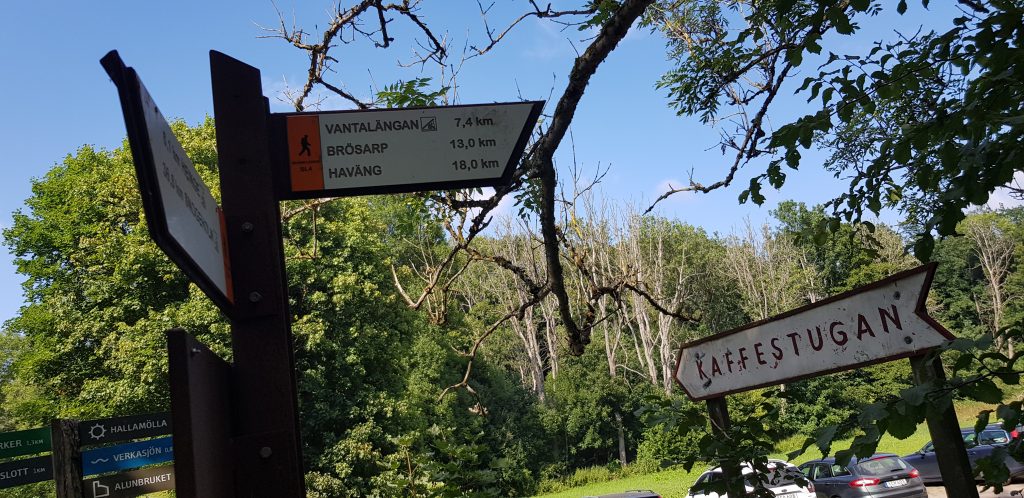 All in all a pretty good day, all considered, but the markings should definitely be improved – compared to previous stages they were really bad but ok if you walk and have time to keep track.
Here are all my pictures if you want to get a better look at the rout. The aim the whole journey was to take one picture every time there is a change from e.g. path to asphalt and, of course, pictures of all stuff beautiful.