Day 8 – Löderup – Ystad 
– Temp: 25-27°C
– Distance: 29.1 km (1.3+27.8)
– Time: 5h 40 min
– SL4 Stage: 2 & 1 (tiny part of 3)
– Difficulty: Demanding (stage 2) to very easy (stage 1)
– Markings: OK
Waking up day 8 was out of this world. Already yesterday I felt the taste of success. Now, I felt it even more. The gut feeling was I was there already – I had reached the finish, it was just a matter of…  nearly 30 km. The fact that 30 km is a normal weekly dose of running for me did not occur at all. It seemed like, pardon the expression, a piss in the ocean.
Preparations
The breakfast at Backåkra vandrarhem was a bit chaotic at peak due to the fact that the buffet was in a tiny corner with no room to walk by and access only from one side so the line was 10 minutes long and people a bit irritated. Even to get a cup of coffee you had to stand in line to get in to the house with the buffet. The breakfast itself was nothing out of the ordinary and a bit of a disappointment since they had promised a spectacular one on the website.
I prepared myself for liftoff and just to be on the safe side this last day I taped the longest of my left pinky and long toe – I hadn't had any trouble with it but when I look at it it looked like the big toe nail is chafing against the next one even though I have used my splendid Injinji woolen toe socks that normally prevents this – I guess 15-25 km a day for 7 days is out of the ordinary then :).
Start
Up and away! I left all the stuff my darling had left here, except for the stuff I ate – the bag with the bed linnen and towel I put behind the reception desk as agreed, and we went to get it the next day on our way home.  1.3 asphalt before the final stage of my GAX challenge starts. This first bit for me is actually the end of stage 3 of Skåneleden SL4.
SL4 Stage 2
Stage 2 is 18 km and marked as a challenging stage and I think that's a fair thing to say with all its hilly dunes and sand but since it's a 4 grade scale were "challenging" is the worst it does not fit into an international scale – it's nothing compared to hikes I've done in Portugal or the Canary Islands. But, for us with a bit of vertigo there is actually one place that you need to be aware of on this stage but more about this under Ales Stenar below.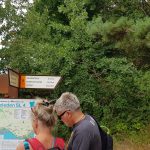 I run 1 km of stage 3 before I get to the end of stage 2. Since I'm doing the whole thing in reverse it's my beginning. At these crossings near car parkings and stuff there are people but apart from the touristy junctions, in eight days, I have not met one person walking or hiking the SL4 – very strange.
Now, I'm not far from Löderups strandbads camping and according to Skåneledens website the stage goes down to the seaside and back again but my GAX-track says to continue in the woods for a while.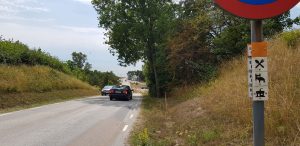 Some gravel, some sandy heaths and I'm closing in on the seaside. Just before Löderup strandbad (2 km east of the camping) at 2.5 km I was just in the mood, everything seemed like a dream come true and I just kept on jogging, taking photos sometimes and suddenly there was the ocean again! I just remembered I was to go towards the seashore pretty soon so when the asphalt sloped down I did too just filled with happiness… down by the sea I realized that I had went too far and went back up again and into an road to the right.  I thought a while of taking a shortcut but I wasn't keen on that – you never know were you end up. If you look at the picture above real close you can see the turn-right-sign I missed :D.
Kåseberga
After another kilometer of asphalt at 4 km I came onto cobbles, 2 kilometers of cobbles. It was hard to walk on but easier to jogg so I tried even though I was tired.
Near the town of Kåseberga there was a long ladder up to the road and then asphalt for less than a kilometer through the busy touristy harbour area crammed with small restaurants, food trucks and so many tourists I entered panik mode and missed the right hand turn, but I took the next one right and was soon on my way up the gravel road leading up to yet another tourist magnet – Ales stenar.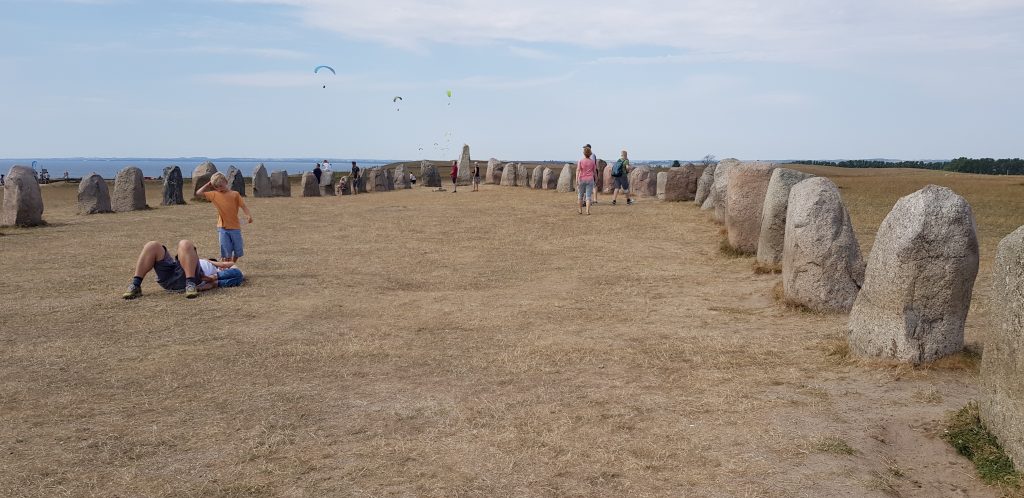 Ales Stenar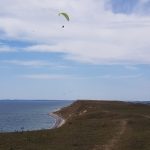 Ales stenar is a very old megalthic magnificent stone ship full of tourists and with a grandiose view. It took me a few minutes to get a picture of the stones without crowds of people and the only way to escape the crowds and continue on the SL4 is via a 2 meter tall rickety ladder leading to the paragliding area. I'm really no good with ladders like this but I managed.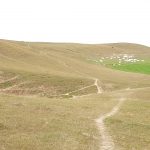 The view here and onward was even more spectacular so it was it was a bit odd that no people except para-gliders were here but I did not mind. It made my experience kind of more down to earth. Apart from the  few kilometers of cobbles this is the part that makes the stage a bit difficult. Up and down, up and down along the scree. Nothing technical except for the ladders but a lot of up and down.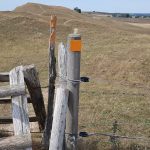 The scree is mostly far from the path so there's nothing that bothers me but at one point a fenced pasture goes all the way to the edge and I have to walk so close to the edge I feel a bit nauseous because it's a bit windy and a gust every now and then makes me even more scared – the people down by the water are soooo tiny. The map tells us it's only 30 meters down there but a fall at such a steep place with nothing to catch the fall would definitely hurt and possibly kill me. As you may have guessed I managed to get passed the point and survived.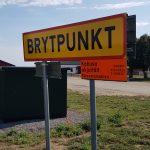 At about 11 km the path turns right in between to pastures because of Kabusa firing range, a military practice area. Half a kilometer north you get onto an asphalt road with cars that don't really care but luckily the path continues on a bike path. Lucky is a matter of opinion maybe but to begin with it felt rather nice not having to think about were you put your  feet, after 4 km it felt like it was quite enough but the military area sign saying "breakpoint" (or inflection point?) really made me laugh and after a few text with a friend that did the GAX I was back on track mentally. Physically there was nothing wrong at all, just a bit tired.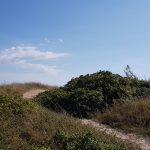 At 17.5 km the SL4 turned into the left and continued close to the sea for another 3km. At Nybrostrandsbadet, a public swimming pool, I bought one bottle of enriched water and two icecreams from the outside. I stood in the shade and ate the icecreams, then continued to a bench by the beach and had a rest.
At Nybostrand camping stage 1 ends, or begins for me. I went into the kiosk but found nothing I wanted but gave them my empty bottle. I was lost for a second and had to take my map on the phone up to navigate and on the right path again I passed the recycling bin the girl in the kiosk tried to give me directions to. Well, well.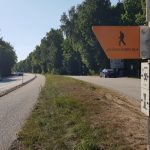 Out on the road for a tiny bit and then into the woods at 21 km. Further on for 5 km along the seashore, to begin with in the woods but so close to the sea you see it all the time. After a couple of kilometers the path gets even closer to the sea and it gets a bit harder to run since it's a bit mushy and sandy at times but soon turnes into a well prepared path, I run into joggers and a runner (at a pace that I never have been able to run) that cheered me on in a way that made me think he saw I was not on a 5K stroll.
Somewhere here I meet my first couple of hikers. After 8 days finally! We talk a bit, they tell me they only just started stage 1 and we say good bye. Further on a bit somewhere after Saltsjöbad Spa & Hotel the path becomes asphalt and there are crowds of people. I'm in the zone and trying to crisscross between bicycles, strollers, baby carriages and whatnot.
The finish
I've been texting my husband regularly during the day and talked a bit trying to coordinate a meeting. He's been working at home and has been driving for a very long time just to be able to see me finish. At 26 km I turn right, north to get into the city of Ystad via the ferry port. And there he is my darling – he made it!!!! Running beside me cheering me along the last 1.5 km is the person I love the most in the whole world. A person that loves crazy stuff, crazy me, crazy in love.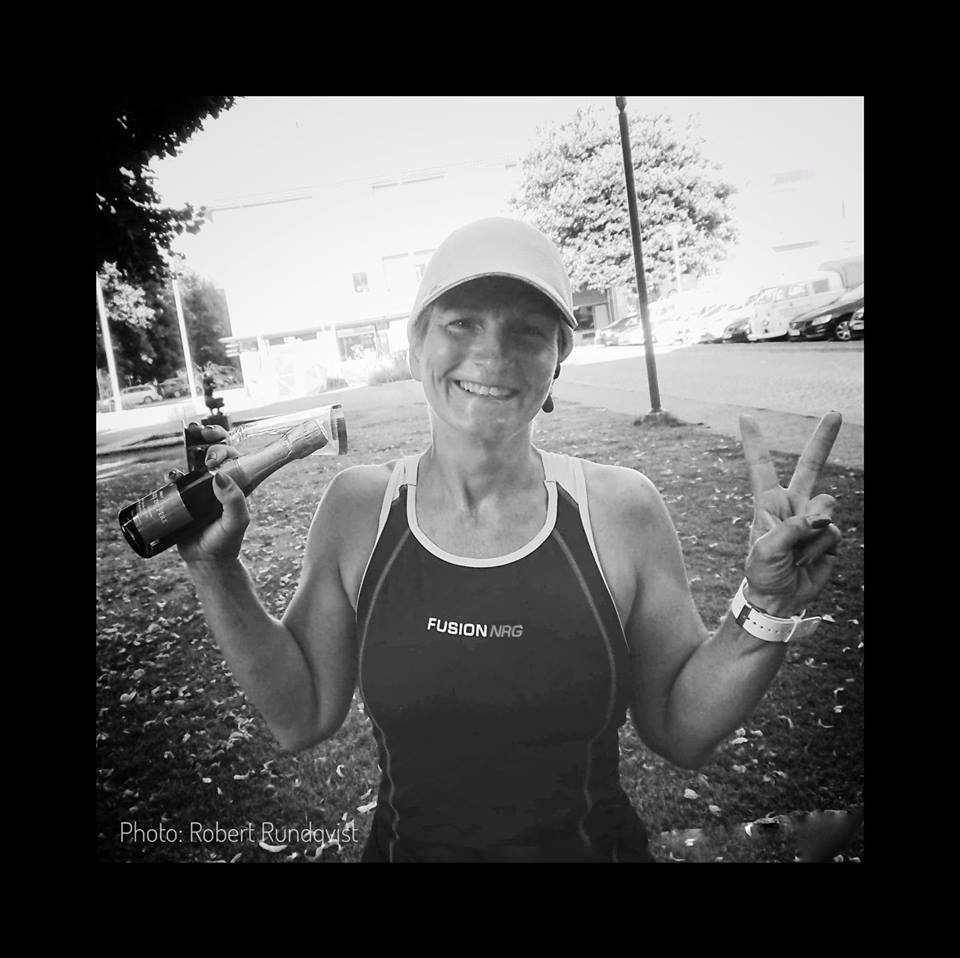 The square where I finish is almost empty apart from some senior citizens and some drinking buddies – none of them even remotely interested in my finish but my lovely husband brings me champagne and takes a photo. He ask if I want something – I really don't remember but I think I had a smoothie. I laid down on a stone wall since our friends occupied all benches and I felt a bit empty but very happy. But, eager to get a shower and to lie down.
Lucky enough, or due to my darling's excellent planning, we had a fabulous room at Stationens B&B, there was a shower only 5 meters from our room that also had a laundry machine, yääääyyyyy! the room was tiny but so nice. Everything seemed newly renovated and even though the room was on the top floor and it was steaming hot outside, the extra cooling fan they had equipped the room with did its' job.
Fooood! I want food! Some googling and a phone call and we had ordered hamburgers and sweet potato fries from a nearby hotel. My darling went there even though the city was crowded and he probably was more tired than me. We ate and just enjoyed each others company.
WOOOOOOOOHOOOOOOOOOOOOOOOOOOOO I DID IT!!!!