Day 2 – Raftarp – Lövestad
– Temp: 28-30°C
– Distance: 22 km
– Time: 4h 47min
– SL4 Stage: 11 & 10 
– Difficulty: Easy
– Markings: So and so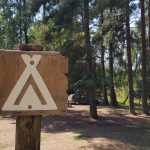 After not too many hours of sleep on the rock hard ground (and ground sheets of course) we decided that R were to go by car and by some thicker things to sleep upon. We ate our overnight oats, that had been soaking all night, with nuts and berries and some milk and drank som cold coffee – due to the long dry spell the last months there is a fire ban in the whole country.
After a long slow morning it was time. I did not even think about how I felt, which, for me, is a sign of wellbeing – everything is as it should, me, great company, a lot of time completely alone and a lot of nature with a single purpose – to move forwards and get there. If only life could be that simple.
Start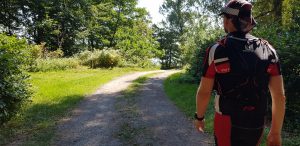 The rout started where it ended yesterday at the camp site Raftarp in "Snogeholms strövområde". Thorugh the woods and, apart from some hundred meters of asphalt, it was mainly gravel or small paths along the lake Snogeholmssjön. The first 4 km I got my husband's company. The SL4 here coincides with the paths of Snogeholm so there is water and a toilet that is not marked out on the rout on the website.
At the end of the lake my husband ran another way around the lake and back to the car. I headed slightly eastwards for our next site in Lövestads Åsar were we were to camp. The first 50 km of the Österlenled (SL4) there isn't many other options than to camp or sleep in one of the four wind shields along the path.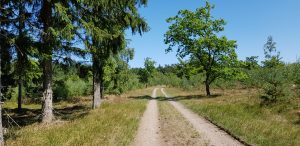 After passing a rather big road at 5 km, the stage continued along really beautiful paths in the woods, sometimes interrupted by a gravel road still heading in the general direction of northeast. Around 8 km it turned into asphalt as it was closing in on Vitabäckskällan  on Hylleslösvsvägen at ~8.8 were there was water. I still had water left but not that much, and it was getting close to 30 degrees Celsius now so I had a refill and i lie down for a good while.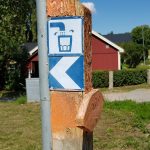 Approximately 5 meters after the water there was a path sign on a gravel road that made me turn right despite my instinct to go straight ahead. Well, closing in on the sign I think saw that it was one of those signs with a X meaning "don't go this way" but I'm not sure – at the same time I had pulled up my map and realised that my hunch was correct and I continued on the asphalt passing by some more houses and also a nature reserve called Vitabäckshällorna where the rare bat Barbastella barbastellus hunts.
10 km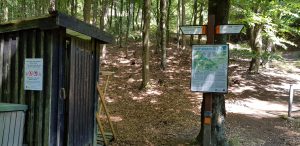 At 10 km I inspected the toilet and wind shed of the area, concluding that, our choice, Lövestad would be much more pleasant, light and not so murky and full of bugs so discussed that over the phone with my husband and we were pleased with our first choice.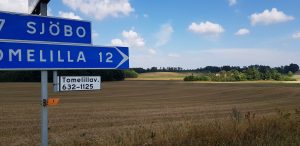 Just above 1 km after the site the path crosses and goes along Tomelillavägen, a busy road with the speed limit of 90km/h meaning heavy lorries and cars pass here at 90-110 km/h. It took me a couple of minutes waiting just to get passed and the 300 meters on that road felt like a 100 miles lorries passing by not slowing down or giving way the least. I soon turned onto a gravel road that went on for 4 or 5 beautiful kilometers – the landscape so stretchered and colourful in different shades of greens and yellow.
17 km
After 17.8 km when the SL4 turns right on Gamla Prästavägen there was no SL4 sign at all but I had just checked the map. A warning is probably appropriate here since the road bends and trees and bushes are in the way you could not see the cars that came at pretty high speed behind the curve.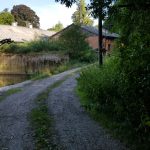 Some more asphalt and onto an even bigger road at 18 km with more fast cars – not my idea of fun but luckily it's only for 500 meters and even more lucky me – there's my husband! A quick hi, a banana for the road and onto a small gravel road again, passing on the premises of farm of some kind, over a concrete bridge passing a small creek and onto asphalt again.
21 km – Kullamöllan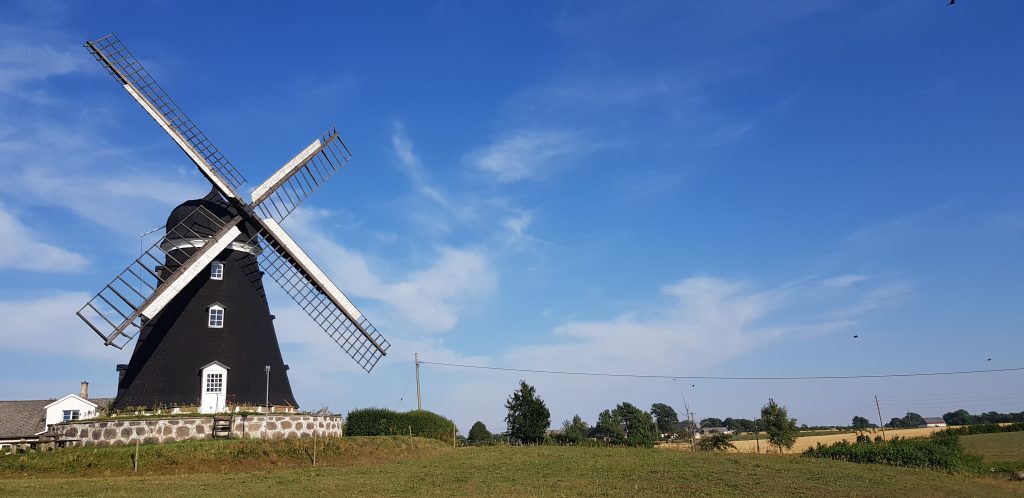 Just around my 21 km mark the newly renovated wind will Kullamöllan, built in 1850 but moved to this location in 1929, is situated. However, it was not windy enough for it to turn today.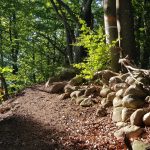 And speaking of turning… at this point the SL4 takes a sharp left almost backwards with no signs to tell. Some more asphalt and then a right turn and another 500 meters before a left turn into the most magnificent woods fore a short climb on the beautiful ridges of Lövestad.
At 22 km there is a parking lot and a place where you're allowed to camp. Soft, soft ground from all the trees' leafs. My darling had shopped for something for dinner and my goodness it tasted good even though we couldn't have it warm because of the fire ban.
Another day of running more than expected. The first 1,5 hours was a lot of running, the last 3 hours was mainly walking since I was very unsure how to utilize my body's strength.