100 miles in 8 days around Österlen in Sweden. Starting now I will take you through my journey around this beautiful route. I will post one blog post covering each and every day of me running and walking Österlenleden, from wakening to falling asleep. You will find a summary of all stages and links to the blog posts below.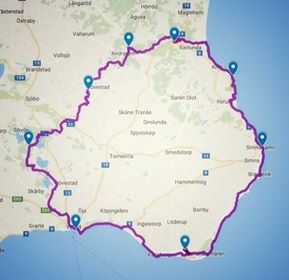 A couple of years ago I stumbled upon a race called GAX 100 miles. A hundred miles in one day is way too much for me but I've always wanted to see more of Österlen in the southeast of Sweden and the county of Skåne so the thought lingered. It seem such a splendid idea to utilize the fabulous hiking paths of Skåneleden and in this particular case the SL4 Österlenleden (interactive map at bottom of page) so I started looking into it more seriously around May 2017.
After Jurassic Coast 50K in June I felt somewhat empty and didn't know what my next challenge would be. The 50 K seemed so insurmountable so I was so content with that it sufficed for a very long time. But come July I felt more and more eager to experience something and then I saw the GAX flicker by on social media and, tadaaaa, we started to plan and yes, it actually was logistically possible to fit in to our lives at this time!
The first 5 days I was accompanied by my dear husband, our car with a tent for emergency overnight stays and the possibility to get refills of water. Although I really like the warm weather, I've never before been running this far in such heat and since I had no idea how far I would be able to run it seemed like a splendid arrangement. The last three days I was on my own but R had been kind enough to place one bag at each of my overnight stays with things I had packed.
My husband the course manager of many races we have managed over the year helped me create a Google map from the GAX gpx-file and together we worked out preliminary stages. However there was no way of knowing how much my body would be able to tolerate so there was really no idea booking accommodation very far ahead.
Here's a summary of the stages and as I write the blogs I will insert links to the blogs. Below is also an interactive Google map.
Now the journey begins!
Please note that the official GAX gpx track is found on their website – this is a track converted from the 2018 race and I cannot guarantee that it's correct.